SERVICE TIMES

SATURDAYS
4 & 5:30 pm

SUNDAYS
7:45, 9:05, 10:35 & 11:55 am
Watch Daily Content
Daily Encouragement and direction for adults, teens and kids designed to keep your faith grounded.
Watch Now
Cornerstone Online Full Schedule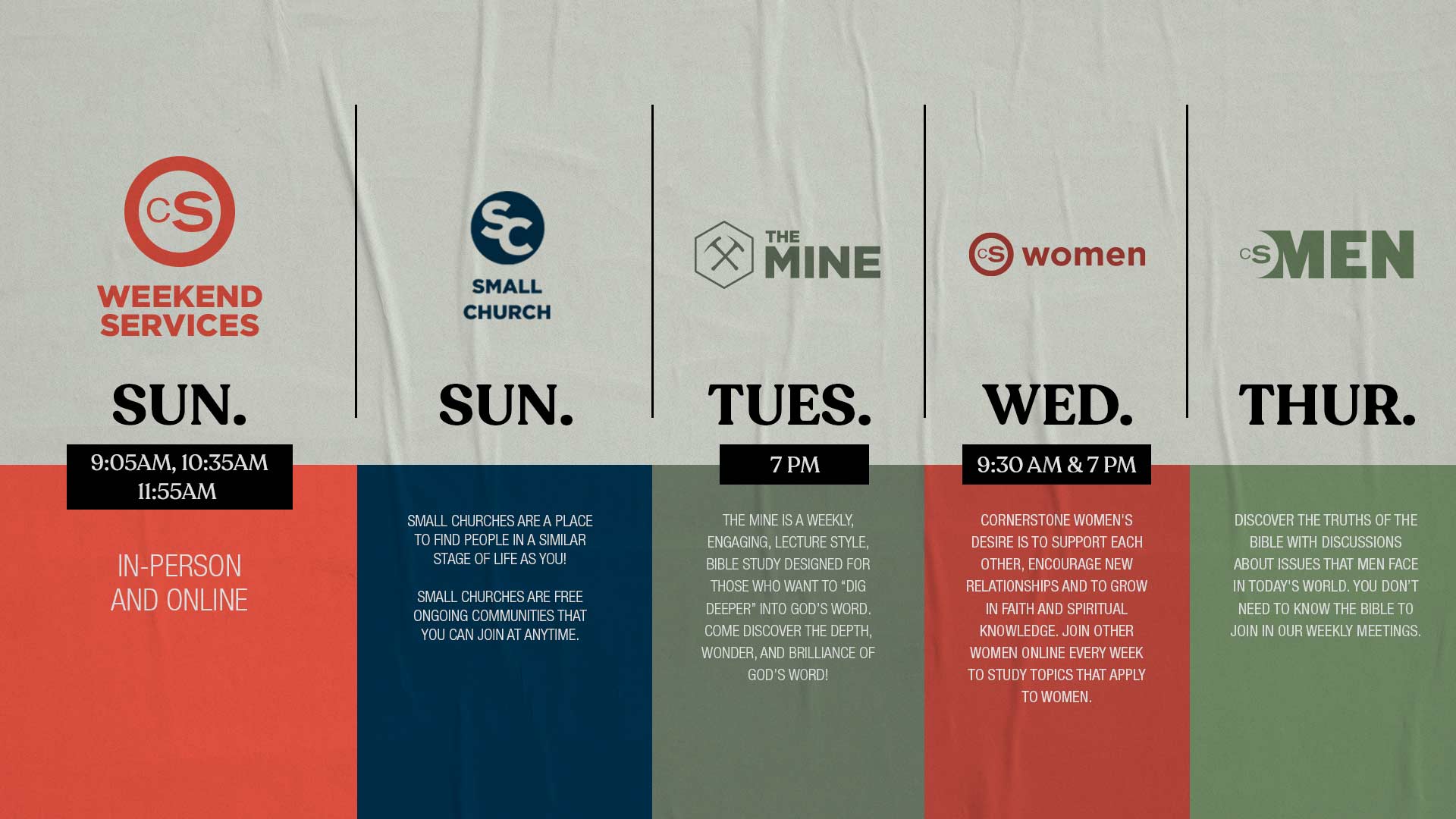 MINISTRY
DAY
TIME
LINK
+ Weekend Services

Saturdays
4:00 & 5:30 PM
Watch

Our Saturday services are hosted online only. We have live prayer rooms, chat rooms, and ways for you to engage with other people and find community.


+ Weekend Services

Sundays
7:45, 9:05, 10:35 & 11:55 AM
Watch

Our Sunday 9:05, 10:35 & 11:55 services are hosted online and in-person.

+ Kids

Sundays
9:05, 10:35 & 11:55 AM
Watch

Join CS Kids for a special experience.


+ Bible Discovery | Small Church

Sundays
9:05 AM
Watch

You'll find community, answers relevant to your right-now so you can continue to grow in your journey in faith and become closer to Christ. Various topics will be discussed each week.


+ Young Pros

Sundays
11:55 AM
Watch

Young Pros is a community of 20-30s in all stages of life, whose purpose is maturity in Christ through intentional relationships, prayer, study & discipleship.


+ Singles

Mondays
7:00 PM
Watch

Cornerstone Singles is for anyone unmarried who believes there's no limit to how God wants to use them. CS Singles encourages ways to live a healthy & satisfying single life.


+ The Mine

Tuesdays
7:00 PM
Watch

The Mine is a weekly, engaging, lecture style, Bible study designed for those who want to "dig deeper" into God's Word. Come discover the depth, wonder, and brilliance of God's Word!

The Mine Fall launch is August 18 and will study the life of Esther. The Mine will start meeting in person on October 20.


+ Women

Wednesdays
9:30 AM and 7:00 PM
Watch

Cornerstone Women's desire is to support each other, encourage new relationships and to grow in faith and spiritual knowledge. Join other women online every week to study topics that apply to women.


+ Men

Thursdays
6:30 AM & 7:00 PM
Watch

Discover the truths of the Bible with discussions about issues that men face in today's world. You don't need to know the Bible to join in our weekly meetings.